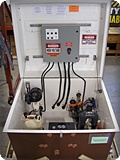 7.203 RDP-2 SERIES
RDP-2 Series Direct Burial Pump Vault
The RDP-2 Series Direct Burial Pump Vault is designed for medium size fountains where concrete pump stations are not practical and interior equipment space is not available.  All units are factory assembled and tested prior to shipment to job site, minimizing installation and maintenance costs. The RDP-2 Series consists of a 4′-10″ x 4′-4″ x 3′-2 3/4″ deep heavy duty FRP vault with white gel-coat interior and brown gel-coat exterior.  It is furnished with fiberglass reinforced plastic lid with stainless steel piano hinge attachment and lock hardware (LOCK BY INSTALLER).  The system features a RSPP  self-priming display pump with integral suction strainer, an RCCF-075 75 sq. ft. cartridge filter unit, and 4″ vent connections with a 250 CFM vent fan. Additionally, the unit includes an RMS-075-NS 3/4″ fill manifold assembly, a  3″ floor drain, and an RPCP/RLCP; U.L. 508 listed control panel in a Nema 4 enclosure.  The Panel contains a main disconnect, a pump starter with circuit breaker, a contactor & adjustable, solid-state overload, single channel programmable time switch(es), for pump and lights, H.O.A. switch(es), plus lighting contactor(s), LED power supplies (if applicable), G.F.C.I. breaker(s), and water level/low level cutoff control circuit (when applicable). Please refer to the cut sheet for power requirements, available models, pump curves, additional information.
Notes:
Cut sheet shows 'typical' configuration.  Configuration is subject to change based on project requirements.
Sump pump available as an option.  See RSX-F Series.
Custom fabricated per project.  Long lead times apply.
 Options include:  Diamond Plate Vault Hatch and Vault Hatch Extension.
Documentation & Downloads